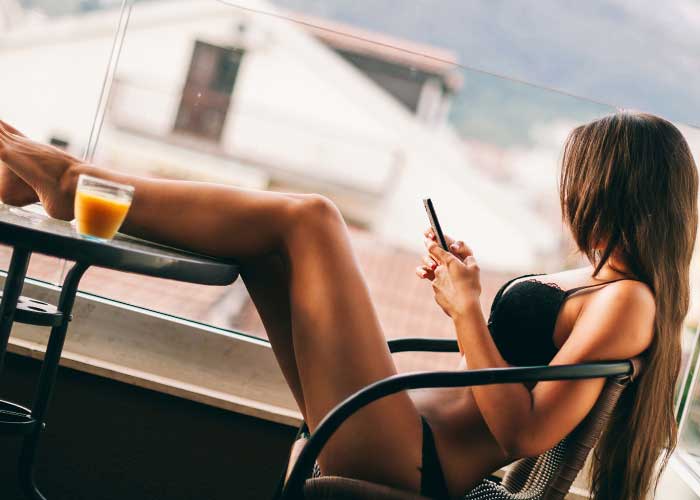 Do you really like someone and want to know how to turn them on even when you're not in the same room? Then look no further than your mobile phone! Sexting is a great way to get them hot under the collar. It's fun, easy, can improve intimacy, and create a huge amount of sexual excitement between the two of you. In this article, you'll learn how to sext and what to say when sexting to turn your partner on.
Top sext text tips
Sexting means it's never been easier to excite someone you really like, allowing you to turn your partner on in just 160 characters! Try out these sext text tips to ensure a great response from the guy or girl you've been flirting with. Whether you're in a relationship or seeking someone new, your love life will never be the same again.
Get the timing right
Don't just send a sext text randomly. It's a good idea to be aware of what your partner's doing when you start sexting them. If they're in a meeting with their boss or having lunch with their mum, it's probably not the best time to initiate it. Get the timing wrong and they may be more annoyed than turned on. Try sending a text saying "Hey, what are you up to?" to find out if it's a good time to get dirty over SMS.
Don't go too fast
If you've thought of loads of hot things to say during sexting, you may be in a hurry to say them. However, it's important not to go too fast. The best sexting has a slow build up that begins with letting them know that you're ready to play. Don't rush straight in and let them know what you want to do to them once you get them alone. You could send a selfie of yourself with a suggestive look on your face, for example. You should make it obvious (without revealing too much), that the texting session could become very naughty. You should gradually build their excitement and anticipation.
Step outside of your comfort zone (but not too far)
Knowing what to say when sexting can be difficult. Whilst it's a good idea to start with something that makes you a little uncomfortable, it shouldn't make you want to run a mile. Step outside of your comfort zone but don't venture too far. It's also a good idea to work out your partner's comfort level too. If you know that sending them a risqué selfie will make him so uncomfortable that they want to run and hide, don't! You could always begin by using sexy emojis as sexual innuendos. In doing so, you can let your partner know what your intentions are without saying a word. There are so many hot text messages to turn her on – just tread carefully.
Sexting is the perfect form of foreplay, offering fun and flirty way to stay connected with your partner on an intimate level. It keeps sex on your mind all day and adds excitement and adventure to a relationship. Hopefully, this article will help you know how to start sexting, whether you're in a relationship or dating. There are thousands of how to turn a girl on over text examples online, so what not take a look? Your love life will thank you, that's for sure!