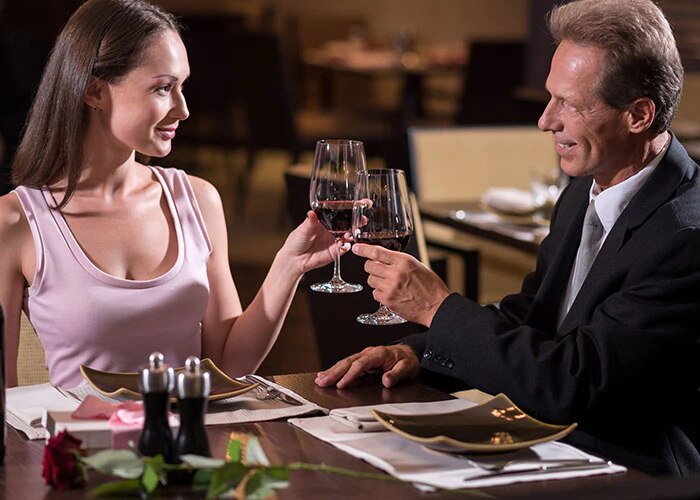 What woman hasn't thought about the hunky silver fox who is mature, chivalrous and caring; it is the dream every woman fantasizes about, however, the reality requires a lot of work – just like any relationship – for it to work. Whether you're dating a guy 5 years older than you or 11 there are things you need to know to help you make your relationship work. So, if you're thinking about dating an older man or already are, then we have the perfect set of how to and tips list to help you make the most out of your relationship with an older man.
How to Get an Older Man
The first part is the trickiest, finding the perfect older man to start dating. Sometimes it happens naturally, but in other scenarios, you may want to actively seek out an older man. Here are some of the ways on how you can get an older man to ask you out and what to do to keep the relationship going in the initial dating stages.
Go to Different Places
No matter whether you're dating a guy 6 years older than you – or even 15 in some people's cases -you're unlikely to meet the kind of older guy you're looking for at clubs or party areas. Older guys are more likely to frequent quieter and low-key places, so if you're looking for an older man you may want to start searching wholesome pubs and cafes.
Online
One of the easiest places to meet older men is through online dating sites as you can alter your age preferences to suit the age range you're looking for. This enables you to feel more confident and makes it much easier to strike up the conversation with your perspective older man.
Be Informed
Typically, an older guy is looking for someone they can share their time with and have a meaningful conversation with their partner. You should be able to make informed decisions on your opinions and articulate yourself well enough to be able to keep up with someone who has had more time to form their own perspective.
Be Yourself
An older man is going to be able to tell whether you're being ingenuine with him and changing your likes and opinions to what you think he will like will not help. You need to be confident enough in your own mind to hold your own. No matter what – within any relationship – the guy should like you for you.
Always bear in mind that you should treat a relationship with an older man the same way you would with someone your own age. You should be able to connect with them, share common interests and treat them like your best friend. As long as you act with consideration and kindness you cannot go far wrong.