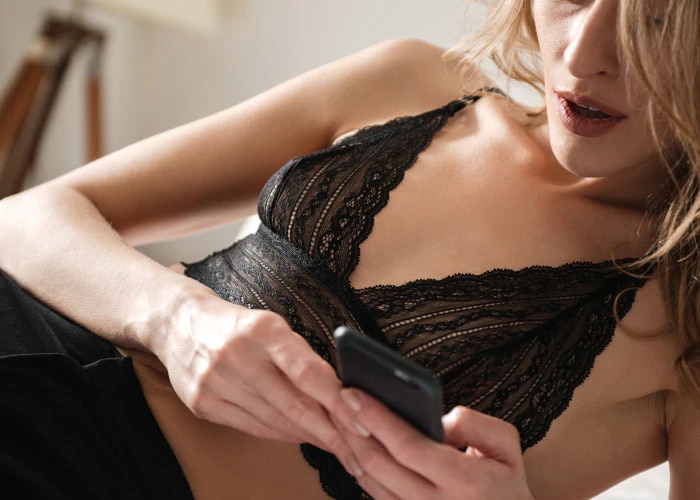 Everyone loves to receive text messages, so why not make your guy feel amazing via SMS? With so many 'don'ts' when it comes to texting, including don't text right after a date, don't double text etc., you may be wondering what men want to hear in a text. After all, you don't want to scare him away if you're into him. Here's some great texts to send to a guy when you really like him…
What men want to hear in a text
The 'I'm into you' text
This is what guys want to hear after a first, second, or third date. Most guys don't want to play games, and they just want to know if you're into them or not. So, do him a favour and take away the guesswork. Let him know that you like him with a text such as "Last night was great. Let me know if you want to do it again!" Put the ball in his court and take away the pressure he's probably experiencing. These are texts guys love!
Texts that pay him compliments
If you're wondering what things guys like to hear in text messages, the answer is compliments. Telling your man that you think he's sexy will boost his confidence and let him know for sure that you're into him. Examples include "you looked so hot in your Snapchat this morning", or "I'm so lucky to have a guy like you". Compliments are great things to text a guy, but it's a good idea to ensure you're sending texts that you know he'll be comfortable with. You don't want to scare him off.
Texts that will turn him on
Any red-blooded male can't wait to receive that long-awaited sexy text from a girl he likes. Whether you've been on a few dates, you're in a new relationship, or you want to add some spice to a long-term thing, sexy texts that will turn him on are a great idea! How sexy you get is up to you, however, you may not want to be too full on if you've just started seeing each other and you're not sure how your text will be received. If you want to know how to be irresistible to a guy over text, just add a bit of raunch and you won't go far wrong!
Texting mistakes can kill a relationship, but sending the right texts can give it a healthy boost and make your man feel on top of the world. Hopefully, this article has given you some insight into things guys like to hear in text messages. Most men aren't complicated creatures, so don't complicate or overthink things. Let him know you're into him, pay him compliments and do your best to turn him on via text and he'll be a happy man!