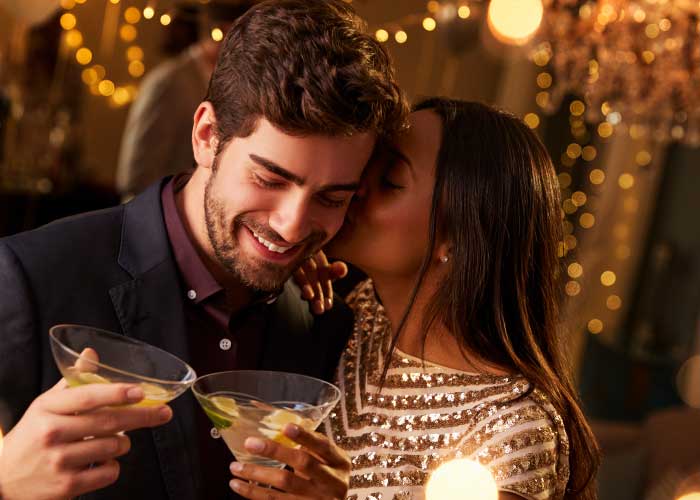 New Year's Eve is a night made for couples. After all, it's one of the most romantic nights of the whole year, and the ideal chance to spend quality time with your partner. Celebrating New Year together allows you to get close whilst reminiscing about all the amazing times you shared over the year. If you want to make the evening special and memorable for you both, consider these fantastic nye date ideas for couples.
Ways to celebrate New Year's Eve with your partner
New Year's Eve is an incredibly special holiday, and so you may feel pressured to plan a memorable occasion that you and your other half will really enjoy. Fortunately, we've put together a list of fun New Year's Eve ideas couples will love. Whether you want to head out on the town or stay in and cuddle up on the couch, we have you covered.
Do date night and go all out
We're not just talking about a regular date night where you make an effort to wash your hair and put on some nice pants to go out for dinner. We're talking about splashing out on a new dress that reveals a little too much and booking a table at the best restaurant in town. A New Year's date isn't just any old date, so make sure you go all out!
Arrange a weekend getaway
New Year's Eve is the perfect opportunity to get away from it all, so why not book a weekend away, just the two of you? Book a room in an amazing hotel and enjoy some pampering together or visit a town or city you've never been to before. A weekend getaway is a popular choice for New Year's with boyfriend, providing the ideal chance to reconnect without the kids or technology interrupting you.
Spend a romantic evening at home
New Year's Eve at home ideas couples may be more appropriate if you live in a cold climate and going out in December requires you to wear the whole contents of your wardrobe to stay warm. If you want to stay snug and cosy on this cold winter's night, it makes sense to stay in and cuddle on the couch. You could line up your favourite movies, play games or cook up a romantic meal together in the kitchen. Open up a nice bottle of red wine, put the fire on and get ready to celebrate at home. One of the best midnight date ideas is to give small gifts at midnight to express your love for each other.
Hopefully, we've given you some inspiration for romantic New Year Eve ideas. Whatever you choose to do on this magical evening, as long as you're together, it's bound to be special. Plan a romantic occasion in advance and you're sure to have an amazing time that you'll remember for a long time to come.
Find a romantic date in love chat rooms at Loveaholics.com!