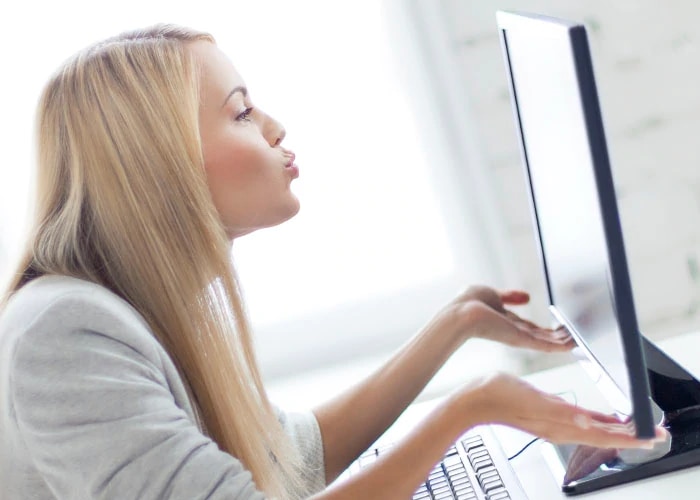 Why women should send the first email
Before considering how to start a conversation it's worth thinking about why you should be initiating the contact. Online dating presents a platform where people can be attracted to one another instantly, and communication can follow immediately after. There's no time to be hanging about.
The first message online dating is necessary to get the ball rolling and guys love girls who are confident enough to do so. You don't have to fret too much about drafting a work of literature – 99% of men will be bowled over to be contacted by you. Online dating messages that get responses just need to be friendly, charming and, naturally, sexy. So if you're pondering "Should I message him first?" the answer it, yes.
Any female who has been captivated by a guy's profile picture but is sitting by her laptop, twiddling her thumbs while considering 'should a girl text a guy first?' runs the risk of losing out to a rival who isn't so cautious. How to get a guy to like you is simple. Make the first move, and then hold back a little. He'll soon be chasing after you.
The online environment for dating
If you want to know how to approach a man online, remember this nugget of information. Men can be quite shallow, especially on the Internet. Good first messages will easily pave the way to a man's heart. They might not be expecting a potential partner to be so up-front and honest. They'll quickly be encouraged. And possibly even smitten.
There isn't really any online dating email etiquette that says you have to follow the traditional dating route of sitting back while he does the chasing. This is the 21st century, not Pride and Prejudice! How to write to men has evolved considerably since the days of demure and modest maidens.
How to write the first email to a guy is something that should come fairly naturally. After all, you chat to friends all the time, through emails and texts. You're already a natural. All you need to is subtly adapt the tone to online dating.
Email etiquette
To conclude, online dating first message from a woman to a man must be friendly but hinting at sensual depths. Attract his attention but leaving him guessing. Your first email must set a scene where you aren't going to be a submissive partner, although you'd still prefer him to take some control of the courtship.
The first message to a guy might seem daunting in the context of this is your 'audition' for your role of partner. But with a modicum of common sense, you'll have him eating out of your hand!