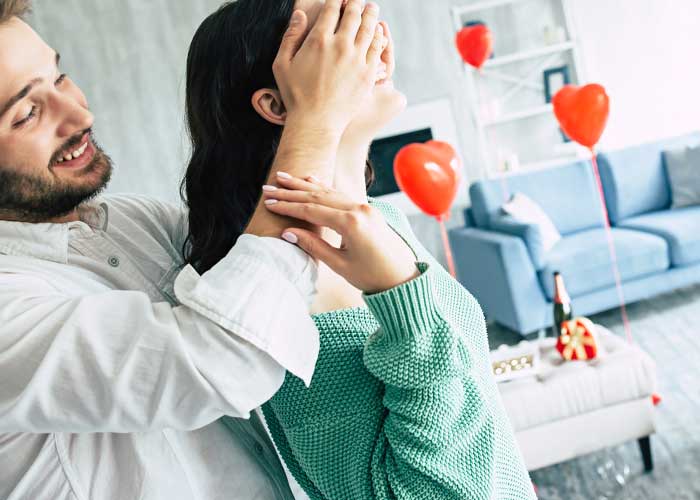 Many people think that love can be bought, but this is a big misconception. In fact, you're more likely to win a girl's heart if can show that you've put effort and thought into treating her.
Rather than quickly ordering something online, take some time to plan a romantic surprise that she'll never forget. Here's how to surprise your girlfriend and make her fall for you all over again.
List of romantic things to do for your girlfriend
It's easy to get so caught up in life that you forget to show your love for your partner. To keep the relationship on the right track, plan a romantic surprise that won't fail to bring a smile to her face.
Being romantic doesn't have to mean spending lots of money. Some of the best romantic gestures for her are very affordable, and some won't cost you anything at all. Here are our top simple romantic gift ideas for her.
Plan a romantic evening at home
The best love ideas are often the simplest, so why not plan a romantic evening at home? Get creative in the kitchen and cook her a delicious dinner. Put on some soft music, light the candles and open a bottle of wine. Attend to her ever need and romance will certainly be in the air!
Pamper her
If your girlfriend works hard, she'll appreciate some pampering. Run her a hot bubble bath with some scented oils and candles and leave her a warm fluffy towel for when she gets out. Alliteratively, treat her to a relaxing massage to help her unwind. Pampering your girlfriend is one of the most romantic ideas for her at home, and it won't cost you much either.
Make a mix CD
If you're looking for sweet things for your girlfriend, look no further than a mix CD. This is a great gift, particularly if she has a long commute to work or likes to listen to music whilst working out. Make her a CD complete with songs that mean something to you both. Why not choose the song that was playing when you first met or danced to? It's one of the most romantic things to do for your girlfriend.
Plan a special outing
If you want to do something special for her, you could always plan a romantic outing. You might think this will be expensive, but it doesn't have to be if you think outside of the box. Why not book a table at the restaurant you went to on your first date? Or you could take her out shopping if that's what she enjoys, or see a movie that she's been wanting to see for ages. Planning an outgoing that you know she will love will show her that you care.
If the romantic stuff has been lacking from your relationship recently, it's time to think of some romantic things to do with your girlfriend. Planning surprises for her will show her that you still love and care for her. Hopefully, this list of romantic things to do for your girlfriend has provided you with some inspiration!