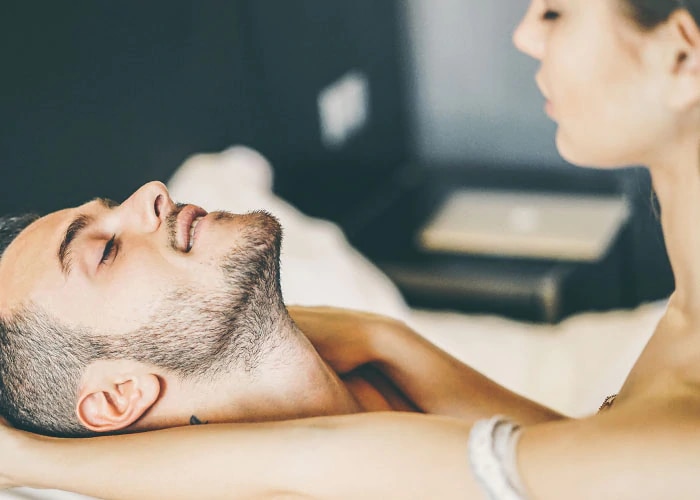 In a perfect world, we would all be mind-readers and know exactly what our partners want in the bedroom. Unfortunately, this isn't the case, and so it can sometimes be hard to know how to turn him on in a way that results in fireworks between the sheets. Knowing what men want sexually isn't easy, but these five top tips to turn a guy on should help…
What guys like in bed
Try different positions
If you and your man do it in the missionary position on the bed a couple of times a week, it's likely that he's craving something a bit different. Whilst you should never do something you're not comfortable with just to please him, you should be able to find some different positions that work for you both. Adding a few new positions to your sexual encounters can increase the pleasure and excitement for you and your man.
Give him an eyeful
Everyone knows that men are very visual creatures. In fact, what they see is nearly as good as what they get! So, make sure you give him in an eyeful when you're getting down to it. You could always take him in over to a mirror during sex, so you can see yourselves in action. He's guaranteed to find it hot, hot, hot!
Be spontaneous
It's easy to fall into a rut, especially if you've been with your man for a while, but it won't take much to pull yourselves out of it. Spontaneity is the key to keeping things fresh. If you always have sex on Friday nights at 7pm, spice things up and jump him as soon as he gets in from work. Leave a sexy message on his answerphone, send some dirty photos to his phone, or invest in some fun toys for the bedroom. Doing the unexpected is one of the things that turn guys on the most.
Dominate him
Many women assume that men always want to be in control when it comes to sex, but this isn't the case. One of the best ways to turn a guy on is to dominate him. So, why not make your way into "Fifty Shades" territory and show him who's boss? Tell him what to do you and what to say, directing his every move. Make it clear that if he doesn't do as he's told, he will be punished!
Be confident
If you really want turn man on in bed, you should start by being confident! Try to be open with him about what you want, even if you're nervous about what he might think. If you want to try using sex toys or give bed restraints a try, tell him! Don't be worried about shattering the "good girlfriend" image he has of you.
Many guys find it difficult to open up about their fantasies, making it tricky for women to know how to drive him crazy in bed. Hopefully, this article has given you a good insight into how to turn a guy on between the sheets!