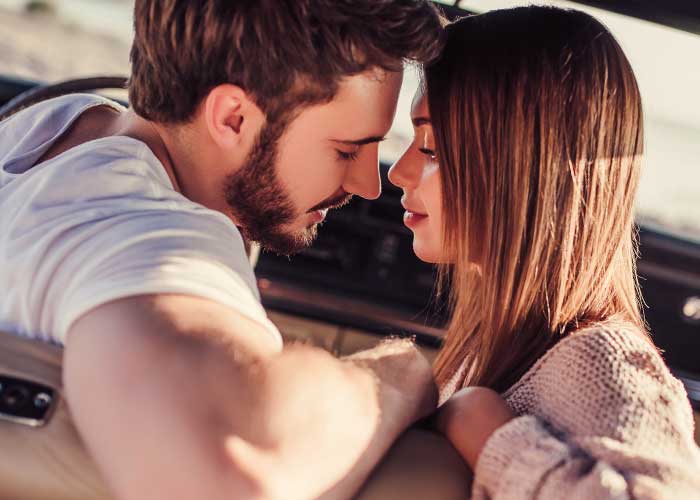 Talking to someone you're attracted to can be nerve-wracking, especially if you have no idea what to say to girls. You may find yourself utterly tongue-tied or struggling to find the words to win her heart. We've compiled a list of the top things to say to a woman you're interested in. Read on to find out how to find your voice when talking to the girl of your dreams.
Sweet things to say to a girl
If you're chatting to a girl for the first time, we recommend playing it safe. Make her feel comfortable around you before turning on the charm. Once you've got to know her better and things are going well between you, you can start flirting with her. Here are some nice things to say to a girl you really like.
Ask her questions about herself
Asking a girl about herself will show her that you want to know more about her. Ask her what she does for a living or what she's studying and respond in an interested manner. This will encourage her to open up to you, making it more likely that the conversation will progress. Girls feel more comfortable when talking about something they know about, so don't stray too far from her comfort zone.
Compliment her appearance
Although looks aren't everything, many girls love it when guys admire their appearance. When thinking of nice things to say to a woman, why not say "I love the way your hair looks today", or "Your new shirt really compliments your eyes". There are many great lines you can use to show a girl how beautiful you think she is. However, try and avoid being too cheesy!
Praise her achievements
Whether she's recently won a promotion at work, she's graduated with a good degree, or she's a brilliant mother to her kids, it makes sense to praise her achievements. Show her that you respect and admire what she does. Most women often receive compliments about their looks, but few men think to commend their actions and successes. If you're looking for something sweet to say to a girl, opt for something like "I really admire how you've done so well at work whilst raising a family too".
Let her know she's perfect (just as she is)
One of the most beautiful things to say to a girl is that she is perfect, just as she is. In this judgmental world, women are constantly being told that they should be thinner, weigh less, look more attractive. They are continually being told that they're not enough, but it's your job to let her know that she's amazing and doesn't need to change a thing. This is one of the sweetest things to say to a girl you love.
If you've been struggling to win her heart, it may be that you just don't know the right words to say to a girl. Men often forget that ladies are totally different to guys, and so it doesn't work to speak to them as if they're one of the boys! Hopefully, this article has helped you think of some things to tell a girl you like.